8 Tips for Striking TOEIC Gold
The business world of today is one that requires the ability to communicate a company message to a global audience. But to do that, companies need qualified candidates, who can step up on the global stage with the English-speaking skills necessary to connect with audiences. The TOEIC exam, or the Test of English for International Communication, is the benchmark for helping companies understand who those candidates are.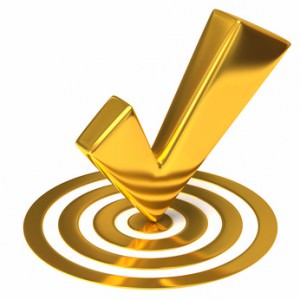 A major part of the exam is the TOEIC Listening and Reading Test, which scores candidates on different levels ranging from 10 to 990. These ranges are color-coded with orange (at the lowest end), brown, green, blue and gold (at the high end). We will be focusing on the high end with these 8 Tips for Striking TOEIC Gold.
(NOTE: TOEIC has another two sections – the Speaking and Writing Tests – which are scored differently. Established in 2006, this is a relatively new part of the TOEIC, and an applicant does not have to take both portions. The Speaking Test is 20 minutes and the Writing Test is 60 minutes. Both are scored between 0 to 200, and we will look at some tips for how to improve your scores in these areas at a later date. However, it is worth noting if you perform well on the Listening and Reading Test, you will greatly improve your chances on these sections.)
1. Give yourself a reward.
The longer it takes to get started, the worse off you will be. Do whatever you have to do to motivate yourself. If that means going on one last night out before turning your weeknights and weekends over to the exam, do it. If it means "rewarding" yourself with a special treat for buying a TOEIC Study Guide, even better! Take an action that in some way boosts your morale. The TOEIC is not a pushover test. It's meant to test how well you can communicate to an international audience. That doesn't come easy, and a nice bit of moral support can help.
2. Immerse yourself.
Once you commit to the exam, don't take it lightly. Let English become the driving tool behind your communications. Change the apps on your phone to English only. Let Google translate websites, and use those translations for everything from shopping to looking up an important fact. There is good reason that students with foreign language majors often live in a country that supports their language of interest for a full year before or after graduation. Immersing oneself into the culture greatly speeds up the learning time.
3. Plan your study goals, both short-term and long-term.
Carve out at least 60 days of study time in anticipation of the test. First, doing so will give you the time needed to fill in the gaps of your knowledge. Secondly, you will be able to micro-focus your efforts on a day-to-day basis. Having a knowledge of the big picture is helpful, but you'll only see it if you complete those little goals, one at a time.
4. Read, read, read.
The simple act of reading nourishes the mind and serves as a means of escape from the things you don't want to do. It also helps you see varieties in sentence structure, vocabulary, grammar and diction, all of which are important to your TOEIC Reading and Listening Scores. Choose popular fiction or non-fiction that is in your area of interest to help make the most of your reading time. We've always said the best type of studying is when it doesn't feel like you are studying!
5. Watch Dexter.
Okay, we're not being serious when we tell you to watch that specific TV program, but it happens to be one of our favorites, and for the purpose of your studies, it is the correct length for the type of programming you should watch. When you do watch a favorite TV show, try to view the episodes with English subtitles running at the bottom, and in the English language. This will help you to quickly learn sentence structure and distinguish slang from formal speech patterns.
6. Read instruction manuals in English.
Similarly to No. 5 – though not nearly as fun – is the option to read instruction manuals. We've given this its own number because we believe it's very important that you read for fun and watch television as much as possible. Study time is stressful, so de-stressing in a manner that still allows you to learn is important. Unfortunately, this option isn't what we would consider fun at all, but it is effective. Instruction manuals to various products are often written in a formal language that must connect with everyone from the high school dropout to those with a doctorate-level education. Talk about effective communication! By reading through the use of an instruction manual in the English language, you have textual and visual examples of what you must accomplish with an international audience.
7. Take a TOEIC class.
TOEIC classes are filled with like-minded individuals with varied degrees of proficiency. They are also overseen by an instructor, who is an expert when it comes to guiding you through the exam to a top score. You can learn a lot from the instructor and your fellow students. As such, a TOEIC class is worth every penny.
8. Take an online TOEIC exam.
All the studying and classes in the world isn't as effective as knowing exactly what you will be up against on test day. For this reason, you should take an online TOEIC exam. Recreate the exact conditions of the test. Don't be lenient on yourself with timing. If you are not finished when time is up, stop anyway. Better you do poorly on a few practice exams than strike out at the testing center. We recommend fitting a TOEIC online exam into your schedule every week so that when the big day comes, you'll be used to the timing and the pressure!