I Wish My Teacher Knew: The 3rd Grade Assignment That Went Viral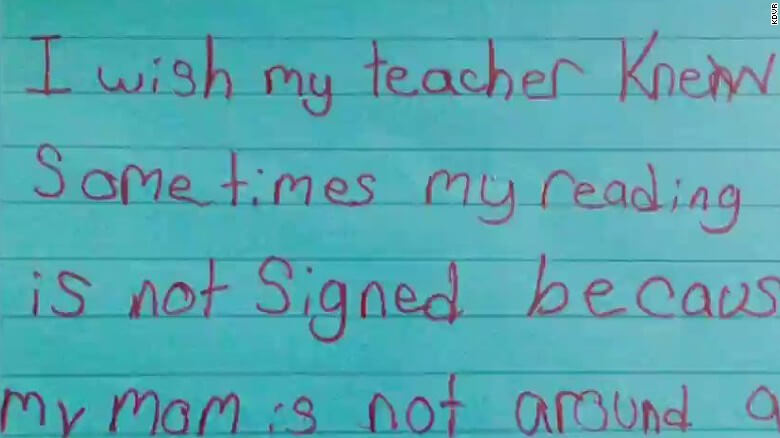 Kyle Schwartz, a third grade teacher at Denver's Doull Elementary, tried a social experiment on her kids that involved asking them to write on an index card or sheet of paper what they wish she knew about them that she probably didn't. Schwartz is the first to tell you that she didn't expect to be as moved by the assignment as she was, nor did she expect it to have a global reach.
(She claims to have received messages "from all over the world" in response to the assignment, and many teachers have adopted the activity for their classrooms.)
Why did it strike such a chord? In part, it was because of what it revealed about the less than stellar lives of some of these very young children (who are about 8 and 9 years old). Here's just a sampling:
I wish my teacher knew I don't have pencils at home to do my homework.
I wish my teacher knew how much I miss my dad because he got deported to Mexico when I was 3 and I haven't seen him in 6 years.
I wish my teacher knew I don't have a friend to play with me.
I wish my teacher knew that sometimes my reading log is not signed because my mom is not around a lot.
How did Schwartz get the idea for this assignment? In an interview with Colorado Public Radio (CPR), she said she thought it came "out of conversations that teachers have all the time about 'what's going on with this kid,' 'how could I best help that kid.' And so instead of making assumptions about my students, I really decided to let them tell me. When it happens in a classroom setting, when students feel like they can advocate for themselves, that's when we can build a really strong community in our classrooms."
Around 90 percent of the students at Schwartz' elementary qualify for free or reduced lunches, so there was plenty of material that would break your heart included in the final assignment. Schwartz started to anonymously tweet some of the more memorable ones, and from there a viral phenomenon was born.
But what does Schwartz think about her students and what did she learn from them? Here's a breakdown from the CPR interview, which you can read in its entirety at this link.
It's well worth the time, and the website also speaks to one of the parents of the students who participated, so give it a look. In the meantime, let's get started with the key takeaways.
1. That her kids are very hard workers.
"… what I do see in my students is this relentless attitude of hard work. They come every day and they read for an hour and a half every day, they come in and they write circles around kids, they write computer code. So I couldn't really compare them to other students but what I do see is this huge presence of grit within my students. That makes me so proud of them as a teacher."
2. That these students' challenges aren't excuses.
"I think that people who don't work in education and who don't work in these schools would think that, 'oh a kid who has these challenges, that's all they have is challenges.' But you would be amazed to see just how resilient kids are. And sometimes what's going on with them is not them focused on what they don't have or this need that's not met. Sometimes what's going on with them is, 'I need to learn more about what's going on with dinosaurs and my teacher needs to teach me because that's exactly what I need to know.'
"My goal is you are going to read regardless, you are going to know your multiplication facts regardless of what's happening at home. So that attitude of regardless, that attitude of pushing kids even further, helping them reach their dreams. I think that's what teachers have, we don't typically get bogged down or feel defeated by the struggles that they face. At least not the teachers that I know in Denver. We really try to look for, how can I get this kid to reach their goal because at the end of the day, that's what I want for my kids."
3. That the challenges aren't always because of deadbeat parents.
"But there are situations that just break your heart, when you hear about it as a teacher, that just are really heart wrenching. It's just devastating that kids have to go through some things that are so far beyond their years. It's just devastating that parents who love their kids so much and value education so deeply have struggles that prevent them from getting everything they need for their kid. And it's heartbreaking, but as teachers, we go on."
4. That her students are community builders.
"I think mainly what the kids have really taught me is how they're able to support each other, that they were able to share what they needed with their class and then those classmates stepped up. So just talking to kids today, they heard another student say, 'I don't have a friend," and they realized 'I can be that friend.' And so that has been really powerful. But I think also been powerful that their story has been just picked up all over the world and they can finally realize just how powerful they are, that as kids, even 8 years old, 9 years old, that if they show that kindness, that if they develop that empathy, that will be noticed the world round and they really can make this change that we talk about in schools."