4 Non-Traditional Ways For Getting In To Med School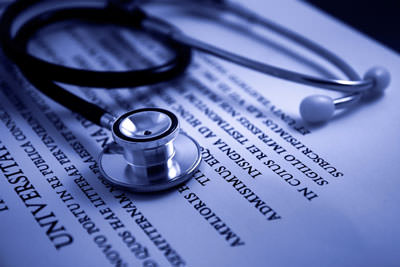 The traditional pathway to med school is rigorous work. Typically, you keep a 3.6 GPA through the undergrad years and score at least a 31 on the MCAT. From there, a number of schools consider your application, and you make a determination based on what offers are on the table. The process can be a time consuming one, taking anywhere from 10 to 12 years to complete. By the time you actually get to enjoy the doctor's life (and pay), you've racked up six figures in education expenses and your twenties are pretty much gone. There's got to be an easier way, right?
Well, we don't know about easier, but there are some non-traditional pathways if you just don't like doing things by the book. Here are four:
1. Go To A Caribbean Medical School, Finish In The US.
Don Osborne, founder of INQUARTA.com and creator of the site's admissions guides, points out that one of the main non-traditional ways to a medical degree is to first attend a med school in the Caribbean, "where you spend two years in the Caribbean and then finish your med education in the US." Osborne notes that the four most well-known Caribbean schools include "St. George, Ross, American University, and SABA, all of which have websites."
Guidelines for each school can be found here:
St. George's University – The Premier Caribbean Medical School

http://www.rossu.edu/
http://www.aucmed.edu/
http://www.saba.edu/saba/
2. 7-Year Med.
While the conditions of a "7-year med" program may vary slightly on where you attend, the gist of it is that you undergo a rigorous bachelor's degree program that accelerates your medical training. Here's an example of how 7-year med programs work, taken from the University of South Florida guidelines:
"Eligible USF first-time in college students who have been admitted to the Honors College and are interested in attending medical school have an opportunity to receive admission to USF Morsani College of Medicine (COM) and complete a medical degree in seven years, provided that the student continues to meet all the requirements of the program.
"The first three years of study will be completed at the Honors College at USF and the fourth year will be completed at the Morsani College of Medicine. A Bachelor's Degree will be conferred following successful completion of undergraduate requirements (typically after the fourth year of study).
"The Doctor of Medicine Degree will be conferred after the successful completion of the program. Students applying for this accelerated program will complete a major in Biomedical Sciences (BMS).
"Honors College academic advisors will provide oversight of the student's progress in meeting Honors requirements and will coordinate overall completion of the first three years of the program. The College of Medicine will provide oversight of the 4-year medical school curricular components of the program."
3. Complete A Post-Baccalaureate Program.
Med student Nick Fain recommends a post-baccalaureate (or post-bac) program, which are reserved for B.A. or B.S. grads, who have not taken premed courses.
"As a result they have traditionally taken non-traditional students who decided later in life that they wanted to be physicians," Fain explains. "The advantages of this route are numerous, but all have in common the fundamental discerning principle that they are geared specifically and exclusively to pre-vetted, pre-qualified pre-meds all of whom the programs believe shall succeed."
Fain breaks down the advantages of post-bac programs into seven key points:
A. Post-bacs provide a "focused and pre-arranged curriculum yielding exactly the education necessary."
B. Post-bacs feature small classes.
C. They contain "extensive and individualized" advising.
D. Post-bacs carry strong relationships with medical schools often including "linkage" agreements to avoid a "glide year."
E. They establish pre-med courses "geared toward future medical applications wherever possible."
F. Post-bacs boast "often very high" success rates. "The one I attended had essentially been 100 percent for many years," Fain said.
G. Post-bacs seldom grade with a curve, meaning you can work alongside interesting people from diverse backgrounds "with the same aim without the stress of knowing some classmates must do poorly for you to do well."
"Furthermore," Fain said, "while the initial conception of post-bac programs was for late deciders, in recent years, there has been an increase in a younger demographic likely due to the above-mentioned advantages of this route."
"At the one I attended, I had a classmate who finished college in three years, applying in his third, and was essentially doing his fourth year of undergrad as a post-bac. So as can be seen, while certainly still a non-traditional pathway, it is unclear for how long it will primarily attract non-traditional students."
4. Step Up And Take Action.
David Chan, a M.D. at UCLA, shares one story about how stepping up and taking action can help distinguish you from your MCAT scores. "I had a classmate in medical school that was admitted outside of the usual process," Chan explains. "When he applied to medical school, he didn't get accepted anywhere because of grades and MCAT scores which were good but not outstanding. However, during college he basically single-handedly ran the university summer program for underprivileged kids, managing over a hundred counselors and a couple thousand kids for two years."
Chan continued: "He was exceptional in his work ethic and strength of personality. During the orientation before classes started, several med students that knew him, asked the admission's dean if he would meet with this guy to give him some advice as he reapplied. The dean agreed and during the meeting was so impressed by him that he offered him a position in the current incoming class right then. My classmate turned out to be a good medical student and also one of the class leaders."
Chan acknowledges that the acceptance process for med school "is obviously imperfect."
"The admissions deans understand this and probably make a limited number of acceptances like this every year," he added.
In Summary
Becoming a doctor isn't easy. And even though the paycheck can be a large one, you'll find that life after med school is no picnic. You're held to a high degree of accountability, you have to deal with unruly patients, government regulations, chintzy Medicare/Medicaid payouts, and the excruciating experience of not being able to save every life that is in your care. It takes a special personality. If you've got what it takes, then don't waste another moment. Take your undergraduate work seriously. Study for your MCAT. Follow one of the paths we've discussed here. However you do it, it will take time, but the rewards can be worth it.
[Image via WeaselZippers.us]