College Application Roundup: Posts Every Senior Should Read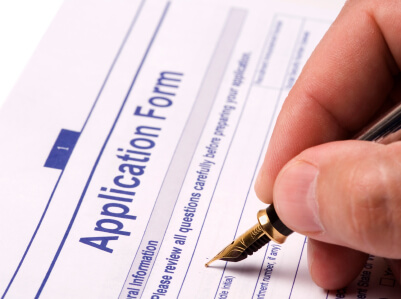 Well, seniors, you're at the start of your final year of high school, and that means while you may rule the roost on campus, you also have a lot of things to get ready for regarding the upcoming chapter of your life. College application is usually what most of you will be focusing on in this, the final stanza of your educational career before college. To help you out, we've rounded up some of our favorite posts from around the web to help you with the college application process — from planning it out to completing and sending out apps to making sure your financial aid is secure. Let's get started!
5 Time-Saving College Application Tricks For High School Seniors
Penned by the Varsity Tutors over at the U.S. News website, this post gives you a very simple breakdown for how you can plan your deadlines, narrow your college focus, schedule exam dates well in advance of college deadlines, and set financial aid deadlines for scholarships/FAFSA/etc. Some of our favorite parts:
Generic college application checklists are just that – generic. Your life is unique, so identify the precise dates of major senior-year events, such as test sessions, and enter them in a calendar that allows you to synchronize your schedule across multiple platforms. … When visiting schools for the first, or even second time, consider capturing video as you walk through the campus to help you recollect the school's vibe when you ponder your options later. … If you're applying to more than one scholarship, you'll likely need similar information for each one, such as extracurriculars, employment and achievements. Take the time now to write all of this information out and save it, along with scholarship forms, essays and other materials, in an online folder.
Read the full thing by clicking here.
Tips For Preparing Your College Application
A second favorite for us would be this short but informative list of tips for getting your college application ready and out to the school of choice. Put together by The College Board and posted on the Big Future blog, it encourages you to start early and beat your deadlines. Also, when it comes to completing the package:
Don't wait. Anything that needs to be mailed, including your application itself, should be sent in several weeks before it is due. This allows time for delivery and processing. Online materials should be sent weeks before the deadline as well.
Submit once. When you apply online, you'll usually get an automated response saying your materials have been received. If you don't, contact the college's admission office. Don't apply online again or mail in another application.
Keep copies. Make a copy of each piece of each application. Save personal identification numbers, passwords, canceled checks and notes or emails from admission officers. This documentation can save you if a problem arises.
Get confirmation. If you mail applications, put a stamped postcard addressed to your house in each package so admission officers can let you know that your materials arrived. The U.S. Post Office also offers a similar "return receipt" service. It may take a few weeks for confirmation cards to reach you.
Read the entire article at this link.
Top 10 College Admission Tips
This article was put together by The Daily Beast's own Kathleen Kingsbury. While you'll find many articles online with generic tips regarding the admissions process, this one digs a little deeper because TDB actually pulls their tips from the horses' mouths — actual admissions officers like Debra Shaver of Smith College:
"Admission officers talk about the importance of rigor in a student's high-school program. When students ask, should I take an AP course and get a lower grade or take a lower level course and get an A, the cliché answer is: Students should take the AP course and get an A. Not very helpful! What we should be talking about is appropriate rigor. That is, if the student can take the AP course and get an A or B, then that's appropriate. If the student will get a C or lower, then she should reconsider. Grades of Cs 'pop' on a transcript to selective colleges since we don't see them often. That doesn't mean that one C on a transcript will mean a student won't get into college. What is does mean is that students shouldn't over-challenge themselves." 
There is also this from Douglas Christiansen, vice provost for enrollment and dean of admissions at Vanderbilt University:
"There are so many essays written about the winning goal, world peace, loving parents, reaching the top of the mountain, etc., that if you choose to write on one of these topics your essay must be perfect. It is important to think out of the box and really write about something that you know and have passion for—do not pick a topic that you think we want to read about. The purpose of the essay is to help the admissions committee fully understand the potential difference you can make in the class and how your background and experience will move the campus community forward."
For all the "inside baseball" from actual admissions officers, make sure you visit this link.
10 Tips for Getting the Most Out of College Financial Aid
Time magazine's Victor Luckerson put together this lengthy but vital post on how to get the most out of your financial aid. As with the college application process, it's best to start early and beat your deadline. He also notes that you should apply for scholarships and aid even if you don't think that you'll get it. After all, failure is certain if you don't try. If you do, you could "get lucky."
"It's tough to predict exactly how much money a given family will receive," notes Luckerson, "but Finaid.com publisher Mark Kantrowitz estimates that households earning up to $180,000 will likely qualify for some form of financial aid. Even if you make more than that, there are reasons to apply. Students who don't apply for aid when entering college are often banned from asking for institutional aid in subsequent years. If your family's financial situation changes while a student is in school, it can be harder to get aid if you didn't apply for it initially. Also, qualifying for federally sponsored loan programs like Stafford Loans and Parent Plus loans requires filling out the FAFSA first."
Check out the rest by clicking this link.
In Summary
As you get ready for this next chapter of life, make sure that you're sure about your final college choices. Ask yourself why you're wanting to go to the school you've chosen. Is it because they have the best program in a particular field or because it's all you can afford? Remember, passion finds a way, so whether you're able to go Ivy League or to a state college, you can find success if you refuse to give up.